I decided to take advantage of bodyline's $1 shipping sale. I've wanted these boots for awhile, so I got 2 pairs (1 offwhite and 1 black).
November 3- Placed and paid order on bodyline's site. Confirmation e-mail also sent on the same day and it said "Items in this order will be shipped within 3 days."
November 4- Received tracking number
November 5- Parcel left Japan
November 8- Arrived in the US
November 10- Arrived at my house
I didn't get to take a picture of the packaging since my mom opened them before I could...but it was typical bodyline shipping: shipped in a bag, wrapped in tissue paper, and inside the boots were foam. I'm just glad the boots didn't get dented on its way to me.
The stock picture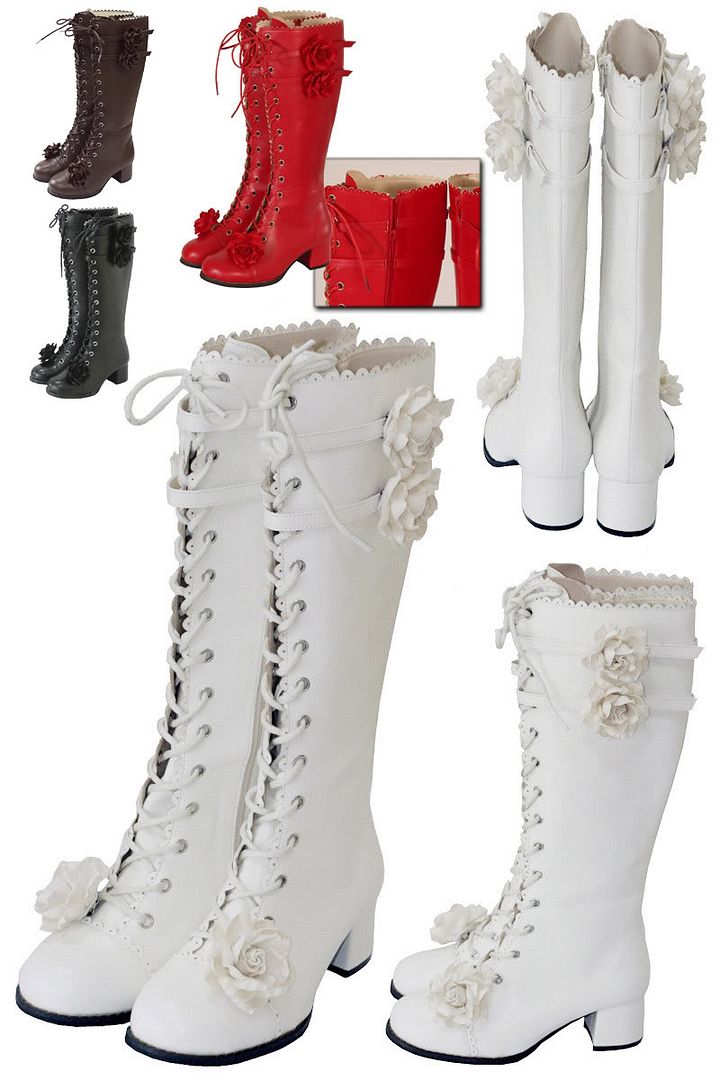 They are very flat which doesn't make much room for the calves. Straight out of the bag, the tightest calf size they can go is 11-12 inches. The material is very thin for boots, but it's also very stiff. It doesn't bend easily which makes me walk with caution when I have them on. The size is accurate. I got size 225, and when I measured the insole, it was 22.5 cm. My foot is actually 22 cm, but bodyline's smallest size is 225. There is no discomfort though~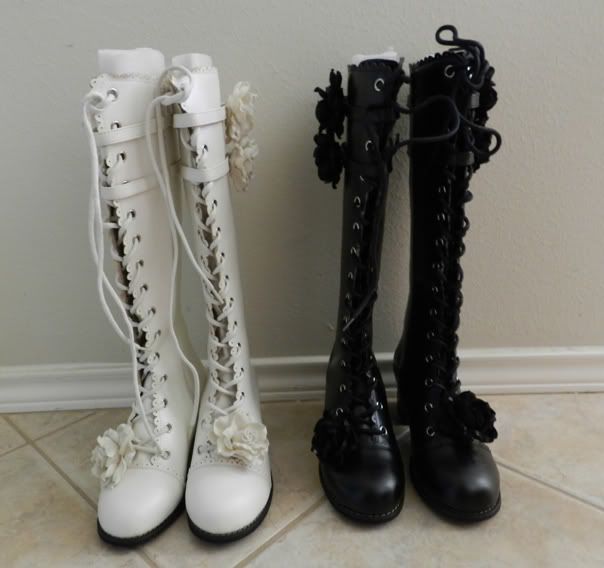 Side view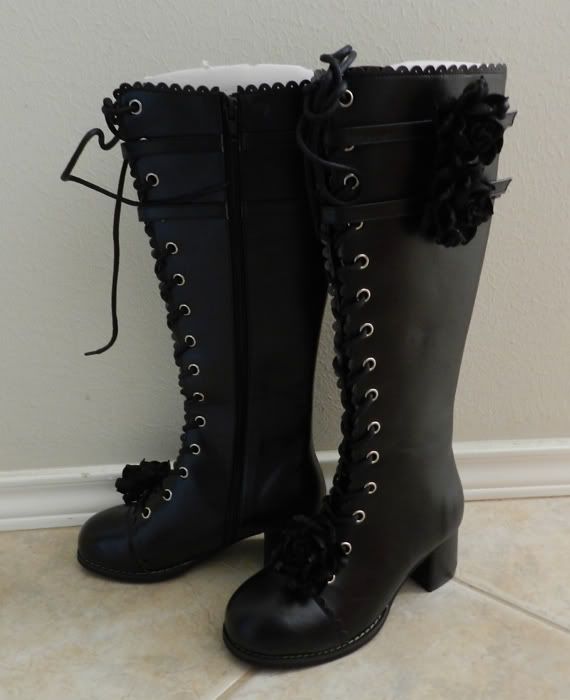 I'll be reviewing the offwhite ones since it was easier to take pictures of the details than the black. The color is definitely offwhite. Here are the boots next to a piece of white copy paper.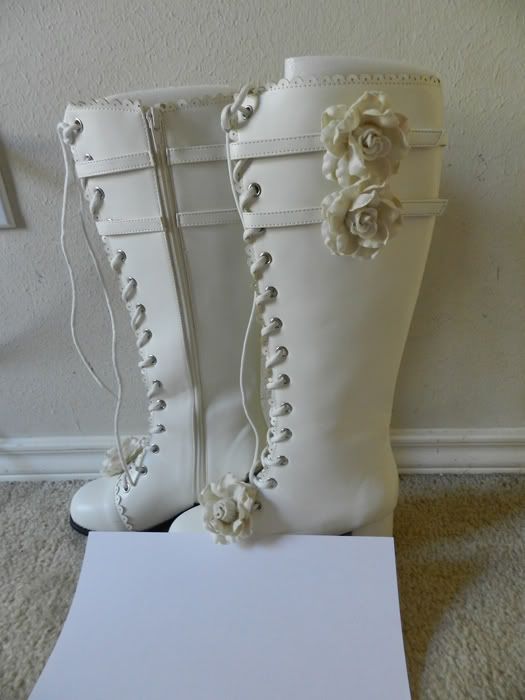 All of the flowers are detachable. They are connected by metal shoe clips. They do dent the boot if left on long enough. I was moving some around, and found that there were already dents. The color of the flowers are a bit more yellow than the boot. They are made of a nice thick felt like material.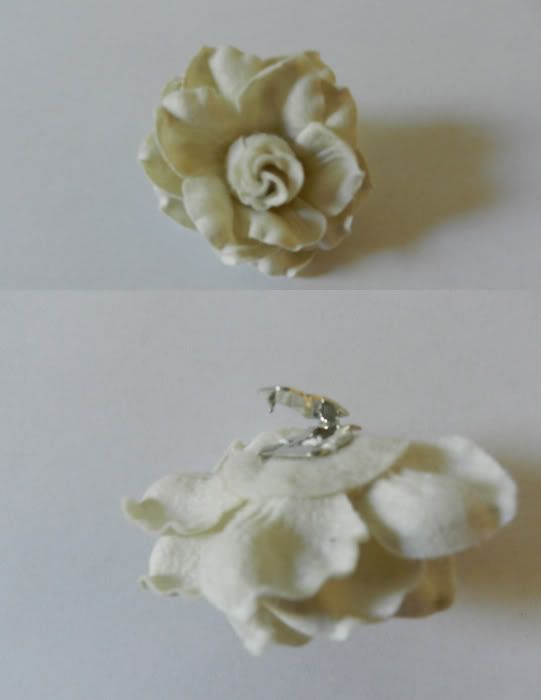 At the top, there are 2 velcro straps for calf adjustment. Here you can see the a dent caused by a flower as I mentioned earlier. It's to the very left of the belt loop and above the flower that's still attached.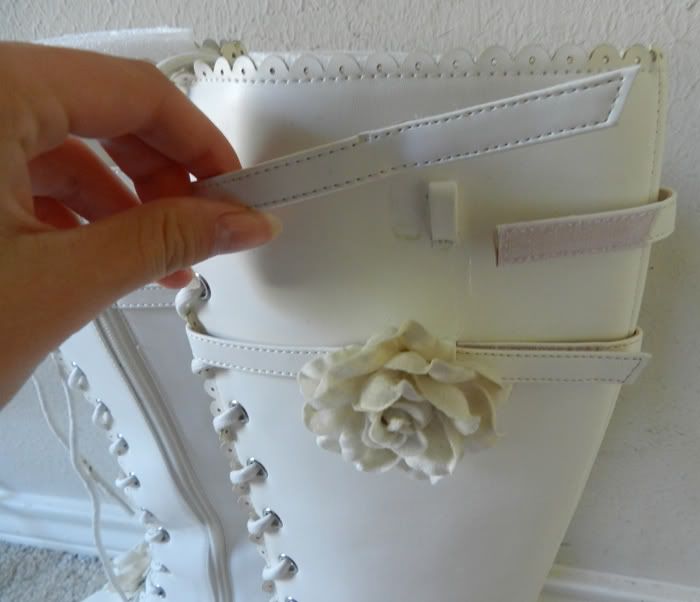 Closeup of bottom
The tread is pretty flat, but that's not a problem for me since it doesn't snow where I live.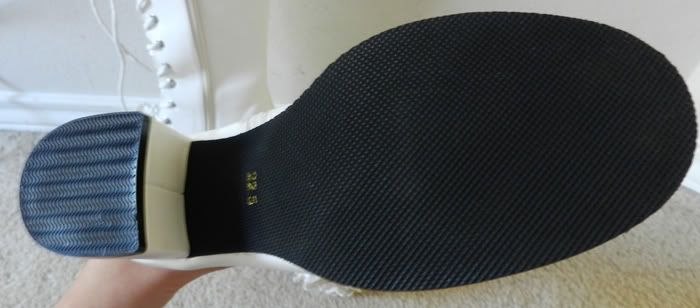 Here are some worn pictures. Sorry for my bare legs, heh. They were tight without any adjustment. The largest place around my calf is 13 inches. I only walked in my house for a few yards, but they are really comfortable!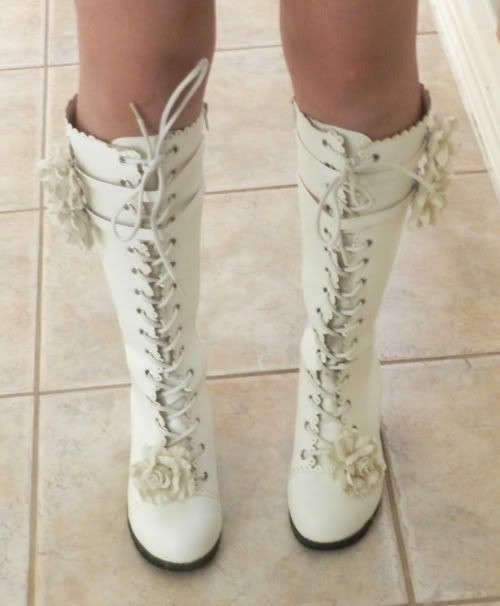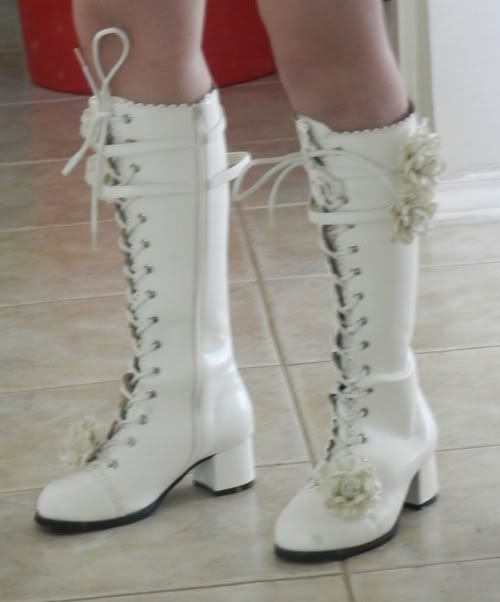 As you can see, it really scrunches up at the ankle. Most of my other boots do scrunch at the ankles too, but these wrinkles stay on the boots after being taken off since the material is stiff. Loosening the calf will probably prevent too much scrunching. It'll probably be less noticeable on the other colors.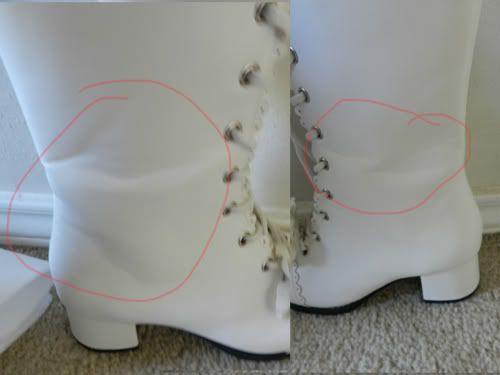 At $66 a pair, I don't think I'll be buying boots from bodyline again. They are really nice and I like them, but the material just feels really...off to me.
P.S. Never use bodyline's sizing charts! Trace your foot on a piece of paper and measure that in centimeters to get your size :)